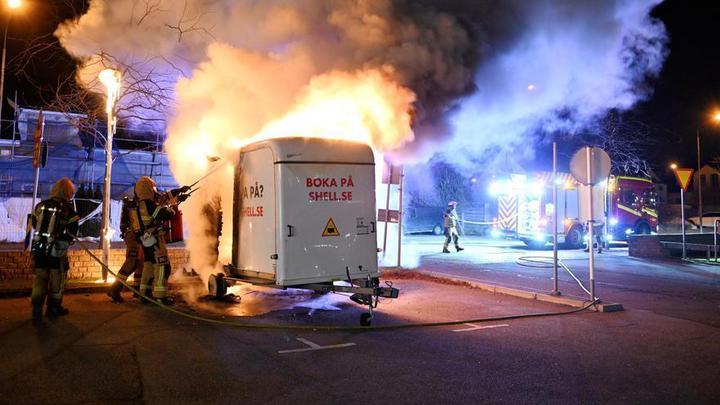 2022-02-01
The flame of Kazakhstan in our hearts: attack against the collaborators of Russian imperialism from Shell in Malmö, Sweden
On the night of February 1 in Malmö, Sweden, we burned the trailer belonging to Shell plc. The trailer was parked at the gasoline station of this company. This sabotage action is the spark of the flame that the rebellion in Kazakhstan lighted in our hearts.
In early January the uprising against Tokayev's oligarchic regime began in Kazakhstan. We follow the success of the rebels and hoped on their victory. But the Russian troops came to help the regime.
The reactionory empire began invasion. The uprising was suppressed. Now brutal repression continues in Kazakhstan.
Russian bayonets defended the throne of Putin's vassal Tokayev. But not only him. It is just to look at the oil production, one of the main branches of the economy of Kazakhstan. Western companies have a huge stake in the country's oil sector. In case of victory of the rebels, the property of these companies could be expropriated by the revolutionary people. The Russian intervention and suppression of the uprising provided the bloody "stability" not only for the oligarchic regime, but also for Western capitalists parasitizing on the natural resources of Kazakhstan.
One of the Western companies energetically acting in Kazakhstan is Shell plc. So, on the Karachaganak Field, one of the three largest oil and gas condensate fields in the country, its share is about 30%. And these are not the only assets of the company in Kazakhstan. The fact that the Russian state sent troops to protect the richness of the owners of Shell is completely not surprising. Shell invested in the construction of the gas pipeline Nord Stream 2 and consistently lobbies the interests of the Russian regime in European politics.
Shell's atrocities is not limited by help to Putin. The activity of this company contributes to climate change and destruction of nature around the world. But evil is not almighty. We need to resist.
Anarchism is the theory and practice which unites resistances to dictatorships, to capitalism, to imperialist wars, to destruction of nature in a one great struggle. The achievement of true freedom from all forms of oppression will occur under the black flag of Anarchy.
Now the Russian state will probably start the next imperialist war. We want to speak to Russian soldiers: you will be sent to kill and die for the interests of greedy and cruel rulers and moneybags. If the war begins, desert with your weapon, disarm officers, join the revolutionary movement.
Death to empires and capitalism!
Freedom to all Anarchist Prisoners!
Group "Death to tyrants"
Death to tyrants