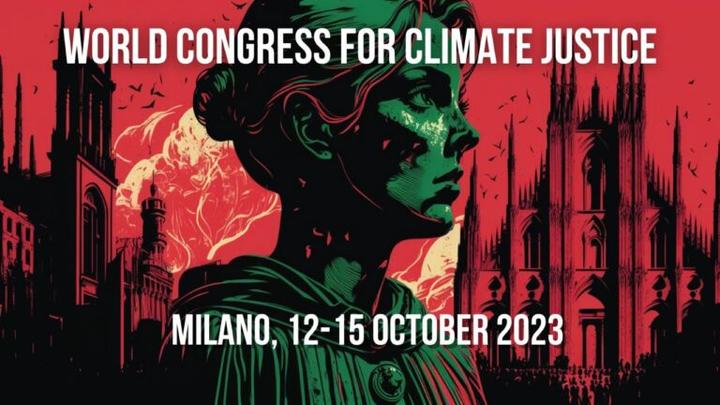 2023-10-05
Stötta World Congress for Climate Justice
I år deltar vi i World Congress for Climate Justice i Milano, som en del i nätverket Take Concrete Action.
Konferensen är ett enormt kostsamt projekt och vi väljer därför att
publicera dess vädjan om donationer här. Har du möjlighet att avvara
några kronor så är varje bidrag betydelsefullt och hjälper oss att få
fler klimataktivister från fler delar av världen till Milano.
PLEASE DONATE
The World Congress for Climate Justice (wccj.online) was created by climate activists from Italy, Belgium, Germany to bring together the main strands of radical ecology from the North and South of the planet to debate and deliberate on how to dismantle fossil capitalism, starting from latest generation of movements like FFF, XR, Ultima Generazione, and building on the Continental tradition of autonomist movements (squatted social centers). Ecologia Politica Network will host the congress in the medieval cloisters of the University of Milan aka la Statale which intends to be the First International of Climate Anticapitalism, to be replicated in another city of Earth in the coming years to advance a revolutionary movement that manages to campaign, organize and act effectively against state repression and the obscene bond linking oil companies and international banks to save the biosphere and humankind from disaster.
The organizing committee is composed of representatives of all the climate movements, student collectives and social spaces of the city, namely Piano Terra, Leoncavallo, Camera del Non Lavoro, and is endorsed by the Transnational Social Strike Platform, the largest network of Eastern and Western European movements around climate, labor, feminism. Ende Gelaende and Soulèvements de la Terre have been invited. Defend Atlanta Forest activists will participate, along with Climaximo from Portugal and dozens of other collectives from Europa, Africa, and the Americas. Rise Up Movement Africa and Climate Strike Switzerland are formally backing the congress, as well as Fridays for Future Lisbon and the Italian Rural Association (ARI).
Take a look at the complete list which is constantly being updated here: http://www.wccj.online/en/2023/05/07/movements-joining-delegations-forming-end-fossil-happening-2/
Essentially we need your hard-earned-or-not money to cover travel costs for the 350+ delegates from climate justice movements that will assemble in Milano, especially for those coming from outside Europe. We are setting up the logistics to host and feed hundreds of people in Milan, but we need real cash to bring climate activsts from Africa and Latin America. Please donate, it's for the climsate revolution and nothing else.

Framåt Kamrater