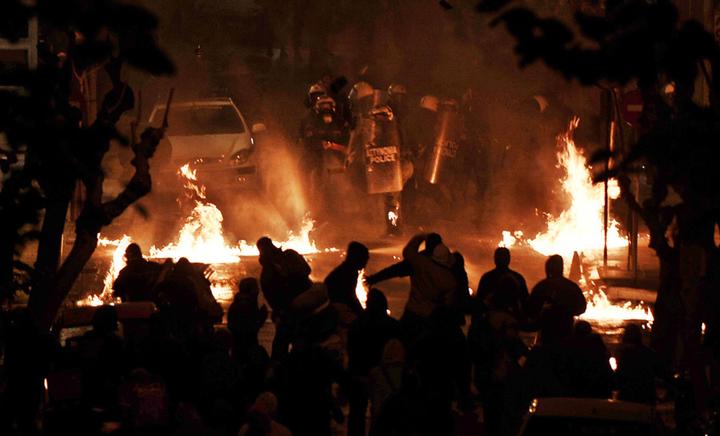 2017-12-06
Remembering the 6th of December, Greece … and beyond: For Alexandros Grigoropoulos
We share below a documentary/political intervention "The potential to storm heaven", covering the popular uprising in Athens and Greece, following on the police murder of Alexandros Grigoropoulos in 2008 (posted on anarchistnews.org), and from Ross Domoney, video of protests in 2015 in Athens remembering the 6th of December …
Two policemen shoot against a group of youngsters hanging out on a Saturday night, at the heart of the Exarcheia district of central Athens, an area with a long history of insurrection against authority and riots for socio-economic and political grounds, inhabited mainly by anarchists, anti-authoritarians and liberals. The police bullet finds the heart and kills 15 year old Alexandros Grigoropoulos.
As soon as the news of Alexis' murder spreads mainly through the internet, hundreds of people from the rest of Athens gather at Exarchia, which is circled by hundreds of riot policemen and which in turn infuriated people and the neighborhood quickly goes "on fire" with flaming barricades and stone attacks against the police, that lasted all throughout the night.
Almost from the same night, the Exarcheia riot spreads all over Greece, with attacks against police stations, even in Greek villages. Protests and demonstrations, which escalate to widespread rioting, rock Greece every day and night for the weeks to come, while public buildings are being taken over and occupied by protesters in dozens of cities and towns around the country.
Outside Greece, solidarity demonstrations, riots and clashes with local police also take place in more than 70 cities around the world, including London, Paris, Brussels, Rome, Dublin, Berlin, Frankfurt, Madrid, Barcelona, Amsterdam, the Hague, Copenhagen, Bordeaux, Cologne, Seville, Sao Paulo, Stockholm as well as Nicosia in Cyprus, and Paphos proving for the first time before the "Arab Spring" that people could spread the news and react through protests for the same matter around the globe, from San Francisco to Wellington and Buenos Aires to Siberia.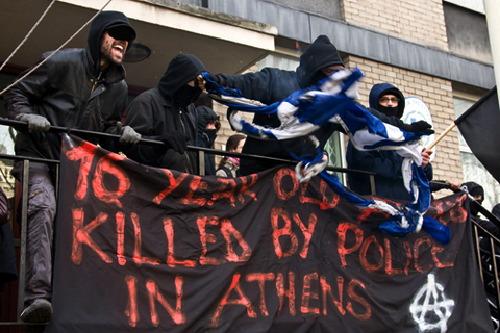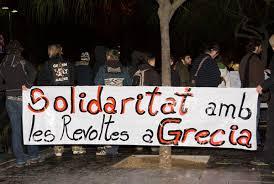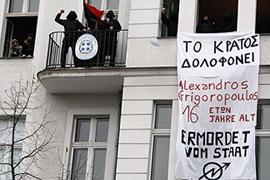 While the unrest was triggered by the Alexis Grigoropoulos murder by police, the reactions lasted for so long simply because they were rooted in deeper causes, like the coming economic crisis a year later, which was already being felt by poorer classes and younger generations through rising unemployment rate and a feeling of general inefficiency and corruption of the authorities, institutions and right wing politicians of the Greek state (mainly New Democracy and PASOK political parties).
The potential to storm heaven …
From Ross Domoney, Athens, december 6, 2015 …

Unseen footage from the fierce riot that "exploded" in Athens on December 6, 2014, during a very tense time, when anarchist Nikos Romanos was on the 27th day of his hunger strike and his health in a critical condition, on the 6th anniversary of his friend's murder, Alexis Grigoropoulos, in cold blood by a policeman in the Exarhia area of Athens on December 6, 2008. During almost 7 hours of fierce riots the riot police managed to enter the square of Exarcheia, only once for less than 10 minutes, since the policemen were driven out by a hale of stones and petrol bombs thrown at them from the roofs of many buildings around the square. 3 other anarchists were also at the same time on hunger strike in solidarity to Nikos Romanos.

Nikos Romanos was demanding to be able to make use of educational leaves to attend university classes, while by studying in prison he has succeeded in the admission exams. Any other prison inmate was entitled to university prison leaves that Romanos was denied, because of his anarchist political beliefs. The greek State also punished him because of his defiant stance in denying to attend an award ceremony, where the greek Minister of Justice, Athanasiou, handed awards to prison inmates that succeeded in the university entrance exams. Nikos was being held in Athens general hospital "Gennimatas", under a strong custody of the police. Anarchist prisoner Yannis Michailidis was also on hunger strike since November 17, 2014, as a form of solidarity to the struggle of Nikos Romanos. Politis and Mpourzoukos were also on hunger strike since December 1.

Alex
Länk: http://autonomies.org/2015/12/remembering-the-6th-of-december-greece-and-beyond-for-alexandros-grigoropoulos/