No Pipelines! Inga Intrång på Urprungsfolkets Mark!
När:
2019-01-09 12:00
Var:
Canadian Consulate: Klarabergsgatan 23, Stockholm
Lets join the 50+ solidarity actions being organized world-wide against the recent raid by Canadian military on We'suwet'en territory to remove Indigenous protesters from blocking construction of a massive gas pipeline in northwestern British Columbia.
The pipeline will transport fracktured gas across 670km of rugged wilderness to be sold for profit, destroying indigenous way of life, and causing environmental destruction.
NO PIPELINES ON STOLEN INDIGENOUS LAND!
We gather in front of the Canadian Embsassy (Corner of Drottningatan and Klarabergsgatan - right next to Sergels Torg!)
Demand that the provincial and federal government uphold their responsibilities to the United Nations Declaration on the Rights of Indigenous Peoples and 'Anuc niwh'it'en (Wet'suwet'en law).
On January 7th, a day before Canadian Prime Minister Justin Trudeau is set to give the opening remarks at the "Modern Treaty and Self-Governing First Nations Forum," heavily armed "RCMP and camouflage-wearing Emergency Response Team tactical unit officers" broke through the Gidumt'en Clan barricade in We'suwet'en territory that was blockading access to the main entrance of the wider territory, which since 2010 has been blockaded by the Unisto'ot'en Camp. In recent months, courts have ruled that the Unisto'to'en Camp blockade must come down, in order to allow fracked gas companies access to the territory to begin construction of the pipeline.
The blockades were in set place in place on unceded indigenous territory that the State of Canada has no legal claim to, and became a rallying point for workshops and indigenous people coming together.
The military raid, which flies in the face of Canada's recent cosmetic attempts at "reconciliation" with indigenous nations, is also illegal under UN law.
Read the full Action Alert from Wet'suwet'en Access Point on Gidumt'en Territory:
https://www.facebook.com/permalink.php?story_fbid=226308738314920&id=212798726332588&__tn__=K-R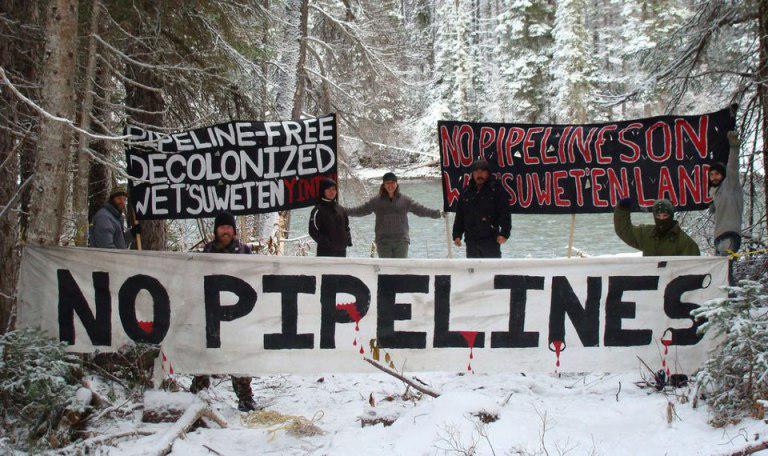 No Pipelines