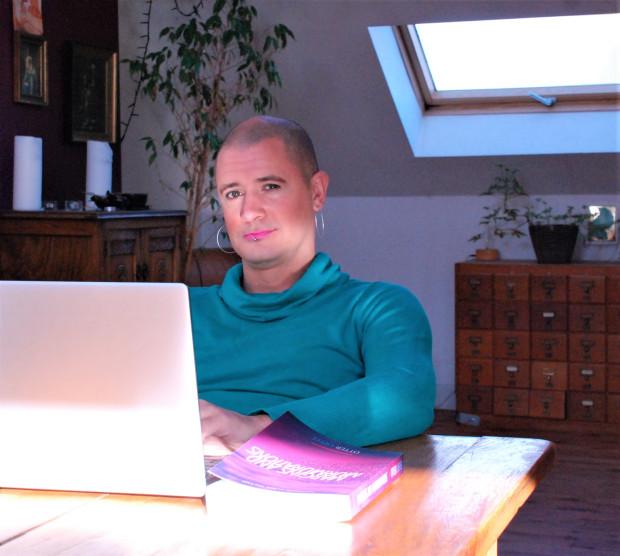 (ENGLISH BELOW)
Internationell författare Otter Lieffe kommer till Malmö för en spännande läsning av hennes nya bok, Conserve and Control. Otter skriver transfeministisk spekulativ fiktion, med emfas på att hitta hopp. Först kom med Margins and Murmurations (mars 2017) och detta är hennes andra roman: Conserve and Control.
Conserve and Control är skrivet från kanterna. Karaktärer som är icke-binära, arbetarklass, funktionshindrade och trans tar en central plats när vi blir transporterade till ett queer och grönt paradis som, vilket gäller för alla utopier, inte går att lita på.
Som en professionell sexarbetare och arbetsklassaktivist nyanserar Otter Lieffe etiken i arbete, kink, sex och aktivism. I hennes andra roman utforskar hon vad det kan innebära att verkligen skapa politisk förändring och frågar vem som hamnar på efterkälken i processen. Hon uppmanar oss att ta vår plats i kampen och ta vår fantastiska komplexitet med oss till frontlinjen.
Denna banbrytande nya historia kan läsas ensam eller som följeslagare till Margins and Murmurations.
Under denna händelse kommer Otter att läsa från boken och signera kopior.
Läs mer om Otter och hennes böcker här:
www.otterlieffe.com
---------------------------------------------------
International author Otter Leiffe is coming to Malmö for an exciting reading of her new book, Conserve and Control. Otter writes transfeminist speculative fiction, with an emphasis on finding hope. First came with Margins and Murmurations (March 2017) and this is her second novel: Conserve and Control.
Conserve and Control is written from the margins. Characters who are non-binary, working class, disabled and trans take central place as we are transported to a queer and green paradise that, like all utopias, is not to be trusted.
As a professional sex worker and working-class activist, Otter Lieffe brings nuance to the ethics of work, kink, sex and activism. In this, her second novel, she explores what it might mean to really create political change and asks who gets left behind in the process. She invites us to step up and take our place in the struggle, and bring our fabulous complexity with us to the front-lines.
This groundbreaking new story can be read alone or as a companion to Margins and Murmurations.
During this event Otter will be reading from the book and signing copies.
Read more about Otter and her books here:
www.otterlieffe.com