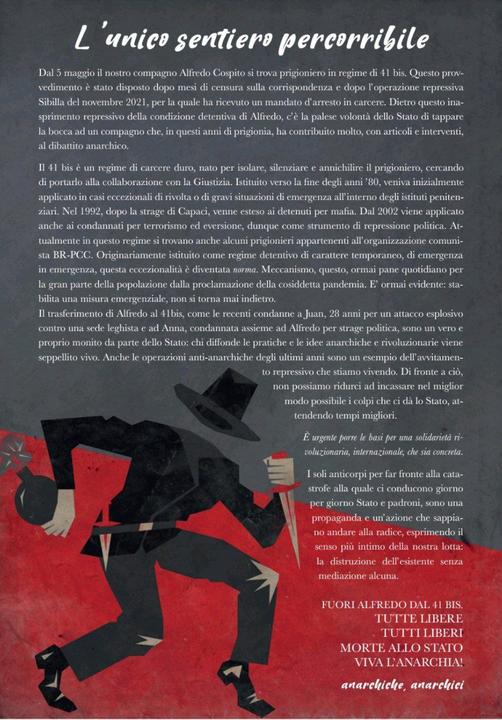 2023-02-16
Italy: The only viable path. Manifesto in solidarity with the anarchist Alfredo Cospito EN/IT
THE ONLY VIABLE PATH
Since May 5, our comrade Alfredo Cospito has been imprisoned under the 41 bis regime. This measure was ordered after months of censorship on correspondence and after the repressive operation Sibilla in November 2021, for which he received a warrant for his arrest in prison. Behind this repressive tightening of Alfredo's prison condition is the state's blatant desire to shut the mouth of a comrade who, during these years of imprisonment, has contributed much, through articles and interventions, to the anarchist debate.
The 41 bis is a hard prison regime, created to isolate, silence and annihilate the prisoner, trying to bring him to cooperation with Justice. Established in the late 1980s, it was initially applied in exceptional cases of riots or serious emergencies within prison institutions. In 1992, after the Capaci massacre, it was extended to Mafia convicts. Since 2002 it has also been applied to those convicted of terrorism and subversion, thus as an instrument of political repression. Also currently in this regime are some prisoners belonging to the communist BR-PCC organization. Originally established as a detention regime of a temporary nature, from emergency to emergency, this exceptionality has become the norm. This mechanism is now bread and butter for the majority of the population since the proclamation of the so-called pandemic. It is now evident: established an emergency measure, there is never a return.
Alfredo's transfer to 41 bis, like the recent convictions of Juan, sentenced to 28 years for an explosive attack on a Lega headquarters, and Anna, convicted along with Alfredo for political massacre, are a real warning from the state: those who spread anarchist and revolutionary practices and ideas are buried alive. The anti-anarchist operations of recent years are also an example of the repressive tightening we are experiencing. In the face of this, we cannot be reduced to cashing in as best we can on the blows the state gives us, waiting for better times.
It is urgent that we lay the groundwork for a revolutionary, international solidarity that is concrete.
The only antibodies to confront the catastrophe to which the state and bosses are leading us day by day are propaganda and action that know how to go to the root, expressing the innermost meaning of our struggle: the destruction of the existent without any mediation.
OUT ALFREDO FROM 41 BIS. ALL FREE, ALL FREE
DEATH TO THE STATE, LONG LIVE ANARCHY!
anarchists
darknights
Länk: https://darknights.noblogs.org/post/2022/10/12/italy-the-only-viable-path-manifesto-in-solidarity-with-the-anarchist-alfredo-cospito/