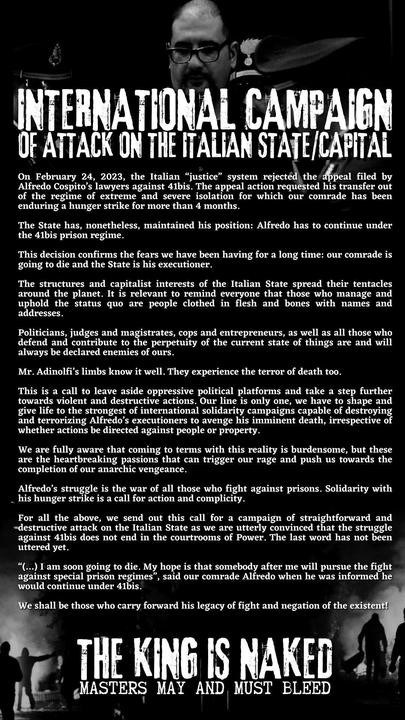 2023-03-05
International campaign of attack on the Italian state and capital
INTERNATIONAL CAMPAIGN OF ATTACK ON THE ITALIAN STATE/CAPITAL
On February 24th, 2023, the Italian "justice" system rejected the appeal filed by Alfredo Cospito's lawyers against 41 bis. The appeal action requested his transfer out of the regime of extreme and severe isolation for which our comrade has been enduring a hunger strike for more than 4 months. The state has, nonetheless, maintained his position: Alfredo has to continue under the 41 bis prison regime. This decision confirms the fears we have been having for a long time: our comrade is going to die and the state is his executioner.
The structures and capitalist interests of the Italian state spread their tentacles around the planet. It is relevant to remind everyone that those who manage and uphold the status quo are people clothed in flesh and bones with names and addresses. Politicians, judges and magistrates, cops and entrepreneurs, as well as all those who defend and contribute to the perpetuity of the current state of things are and will always be declared enemies of ours. Mr. Adinolfi's limbs know it well. They experience the terror of death too.
This is a call to leave aside oppressive political platforms and take a step further towards violent and destructive actions. Our line is only one, we have to shape and give life to the strongest of international solidarity campaigns capable of destroying and terrorizing Alfredo's executioners to avenge his imminent death, irrespective of whether actions be directed against people or property. We are fully aware that coming to terms with this reality is burdensome, but these are the heartbreaking passions that can trigger our rage and push us towards the completion of our anarchic vengeance.
Alfredo's struggle is the war of all those who fight against prisons. Solidarity with his hunger strike is a call for action and complicity. For all the above, we send out this call for a campaign of straightforward and destructive attack on the Italian state as we are utterly convinced that the struggle against 41 bis does not end in the courtrooms of Power. The last word has not been uttered yet. "(…) I am soon going to die. My hope is that somebody after me will pursue the fight against special prison regimes", said our comrade Alfredo when he was informed he would continue under 41 bis.
WE SHALL BE THOSE WHO CARRY FORWARD HIS LEGACY OF FIGHT AND NEGATION OF THE EXISTENT!
THE KING IS NAKED
MASTERS MAY AND MUST BLEED
Anarchists
Länk: https://lanemesi.noblogs.org/post/2023/02/25/international-campaign-of-attack-on-the-italian-state-and-capital/