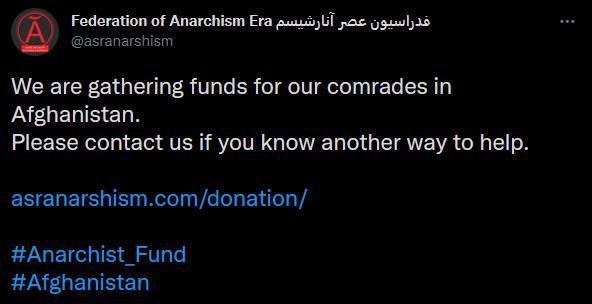 2021-08-16
​The Anarchist Union of Iran and Afghanistan is calling urgently for support
The Anarchist Union of Iran and Afghanistan is calling urgently for support, financial and otherwise to help comrades flee the Taliban's advance in that country. Activists and journalists in Afghanistan are presently in grave danger.
I'll have a lot more to say about what this situation portends, but we should do what we can to get Afghan anarchists to safety, urgently, and then do what we can to help them resist.
I'll say this: If Kurdistan was a test run for international solidarity, Afghanistan is the main event.
In the meantime here's their website:
https://asranarshism.com/donation/
Relevant links and information are contained in my tweets about the situation: https://twitter.com/PoMo_Cowboy/status/1427124911336828928
Aktivista Feminista