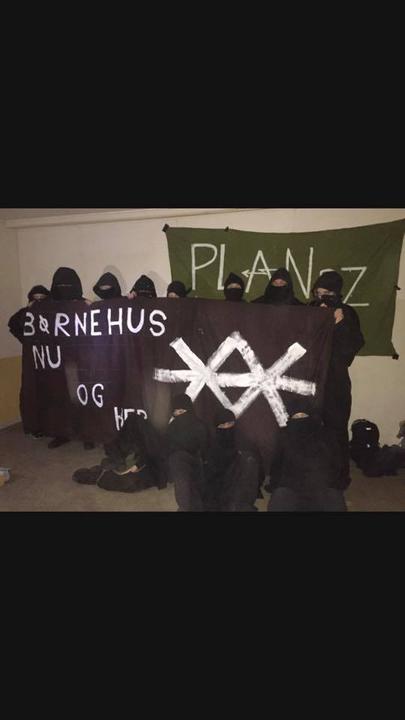 2020-02-14
Husockupationen i Köpenhamn igår
!BEZAT!
I ET SOLIDARISK SAMARBEJDE MED "PLAN BZ"
KÆDEBESKED:
KAMMERATER!
ET HUS ER BLEVET TAGET FRA KØBENHAVNSKOMMUNE OG NU ER DET VORES!
BØRNEMAGT HAR TAGET ET HUS MIDT INDE I KØBENHAVN, OG VI HAR BRUG FOR JERES STØTTE!
VI VED IKKE HVOR LANG TID VI HAR DET, ELLER HVORNÅR DET BLIVER TAGET, MEN VI REGNER MED I ER DER NÅR VI HAR BRUG FOR JER. SÅ VÆR KLAR! VI GIVER JER BESKED OM HVOR OG HVORNÅR DET GÅR NED, SÅ VI KAN STÅ SAMMEN I SOLIDARITET OG KÆMPE TIL DET SIDSTE. SEND DENNE BESKED VIDERE TIL HELE DIT NETVÆRK FOR VI HAR BRUG FOR ALLE DE KRÆFTER VI KAN FÅ.
PÅ FORHÅND TAK FRA BØRNEMAGT VI SES PÅ GADEN!
ACTIVISTS!
A BUILDING AS BEEN TAKEN FROM THE GOURVERMENT AND NOW IT´S OURS!
BØRNEMAGT HAS TAKEN A HOUSE IN THE MIDDLE OF COPENHAGEN, AND WE NEED YOUR SUPPORT!
WE DONT KNOW HOW LONG WE WILL HAVE IT, OR WEN IT WILL BEE TAKEN FROM US, BUT WE COUNT ON THAT YOU WILL BEE THERE IN SUPPORT, WHEN WE NEED YOU.
SO BE READY! WE WILL LET YOU KNOW WHEN AND WHERE IT WILL GO DOWN, SO WE CAN STAND TOGHETER IN SOLIDARITY AND FIGHT UNTILL THE END!
SEND THIS MESSAGE TO YOUR NETWORK, WE NEED ALL THE SUPPORT WE CAN GET!
THANKS IN ADVANCE FROM BØRNEMAGT SEE YOU IN THE STREETS!
squatter