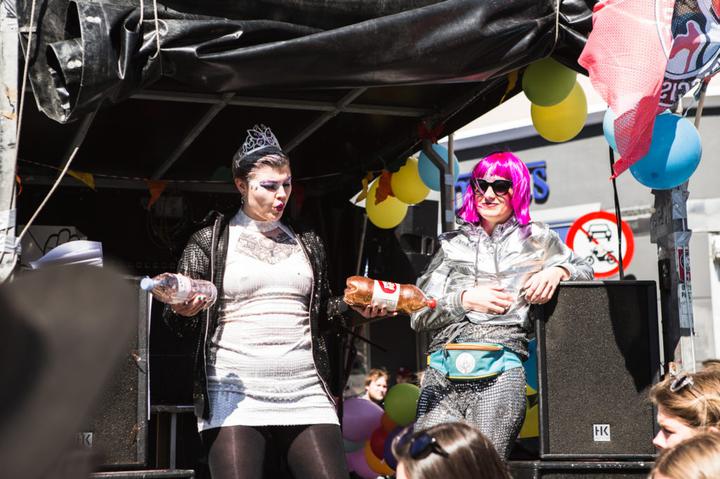 2018-11-07
Support Konfront
For the past several years, Denmark has been without a unifying media platform for the radical, extra-parliamentary left. We are going to change this. During the last two years a small group of activists have worked hard on brainstorming, designing, developing and discussing the new media platform we call Konfront.
Konfront will be our movement's own media. We will work on our own premises, define our own agenda and not be dependent on what the established media focuses on. Konfront will be a platform for organizing based on the many areas where we agree; there is more connecting us than dividing us. Konfront will be a media platform for sharing our activities, thoughts, ways of organizing, analyses, debates and commentaries and a place and space for the sharing of knowledge, the exchange of experiences and constructive criticism aimed at offering guidance in further reflections, education and development.
Konfront's content will consist of reports, debate, opinion pieces, current events, the launching of new projects, historical context, calendars and much more, and will be conveyed through video, articles, podcasts, articles, images, illustrations and more. There will be galleries of underground concerts and queer performances, reviews of books and community kitchens, analyses of new political currents and drug issues at Vesterbro, critical night life reports, guides for being a good ally and on how to start study circles, invitations to demonstrations, parties and collaborating on new projects, and technical guides for how to produce content. Konfront is not just an outlet for creativity, but a breeding ground for it.
We believe and hope that many will contribute to making Konfront a unifying force for the mobilization of a progressive counter culture, and as an alternative to commercial media and oppressive structures. We want a better world, not tomorrow but today. Please support us with what you can, and help us all help each other in our common struggle.
Our goal
Primary goal: €1500 for hosting, support and maintenance.

If we get more than €1500:
€2170: Transportation
€2840: Translation and interpretation
€3640: Sound equipment for podcast production
€4810: Video equipment
If we raise further funds they will be channelled towards furthering developing Konfront, so it can be a platform for all we are envisioning as a movement.
Konfront