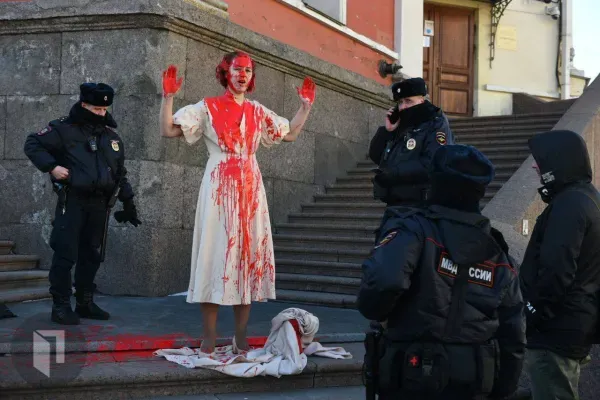 2022-04-09
Radical Resistance from Russia to Invasion of Ukraine: Part 4
The next issue of international review from the online journal in destroyed Kharkiv! Previous parts are here, here and here. For donation to comrades you are welcome here.
Anti-war pickets and street performances continue in Russia despite all the bans, arrests, administrative and criminal cases - as, for example, this girl with red paint did in front of the St. Petersburg City Council a couple of days ago - however, the number of people leaving is not comparable to that was in late February and early March. It can be assumed that, at least in the coming weeks or months, until the situation in the RF changes radically, the protest will be expressed not so much in the form of suppressed mass street actions, but rather in the form of street "guerrilla" and increasing sabotage by security officials with their relatives.
So, in the last few days, was published an emotional video statement from combatants mobilized in so-called Donetsk People's Republic, openly declaring that they are being sent to war by force: "We are ordinary handymen, power stations workers, plants workers, a lot of us have already perished. What are we doing here?! We are in Sumy, damn it, some kind of dick. Know the truth, the RF Ministry of Defense does not know anything about us. We were illegally brought to the Russian Federation, without documents, with weapons. Return us to Donbass. They threw us into the war, they told us to DIE. We are cannon fodder." They also said how white guards mobilize everyone, including 17-19 y/o students, sending with riffles against Ukrainian rocket systems and mortars. In general, they confirmed information told by a comrade from Gorlovka in this recent interview.
Almost the entire battalion tactical group from self-proclaimed South Ossetia refused to participate in hostilities against Ukraine. According to the former president of this self-proclaimed Caucasian republic, about 300 soldiers laid down their arms and returned home. They serve at the 4th guards military base of the RF.
A new act of Belarusian rail war took place on the night of March 25 near Borisov: unknown persons burned down two relay cabinets on the Borisov-Novosady railway line. Sabotage on the railway is an effective way to prevent the supply of weapons and soldiers to continue the imperialist aggression and save people's lives. The KGB (special service and political police of Lukachet) has already stated that it cannot guarantee the safe transporting for Russian troops along the Belarusian rails, with the control time of traffic, correspondence with the UVSO (Military Communications Office of Belarus and Russia), other documentation. As we wrote earlier, in this regard, the KGB is going to conduct another "cleansing" at the Belarusian Railways. It may affect those who work with documents of limited distribution and workers involved in the organization of train traffic. In addition, it is reported that in the Directorate, branches and subdivisions of the Railways, employees began to be given paper with threats of criminal liability for involvement in the rail war and calls for it, demanding to sign it.
Moscow student Anastasia Levashova was sentenced to two years in prison for throwing a Molotov cocktail at a cop during anti-war rally on February 24. The court found her guilty of threatening to use violence against a government official. The girl pleaded her guilty in part.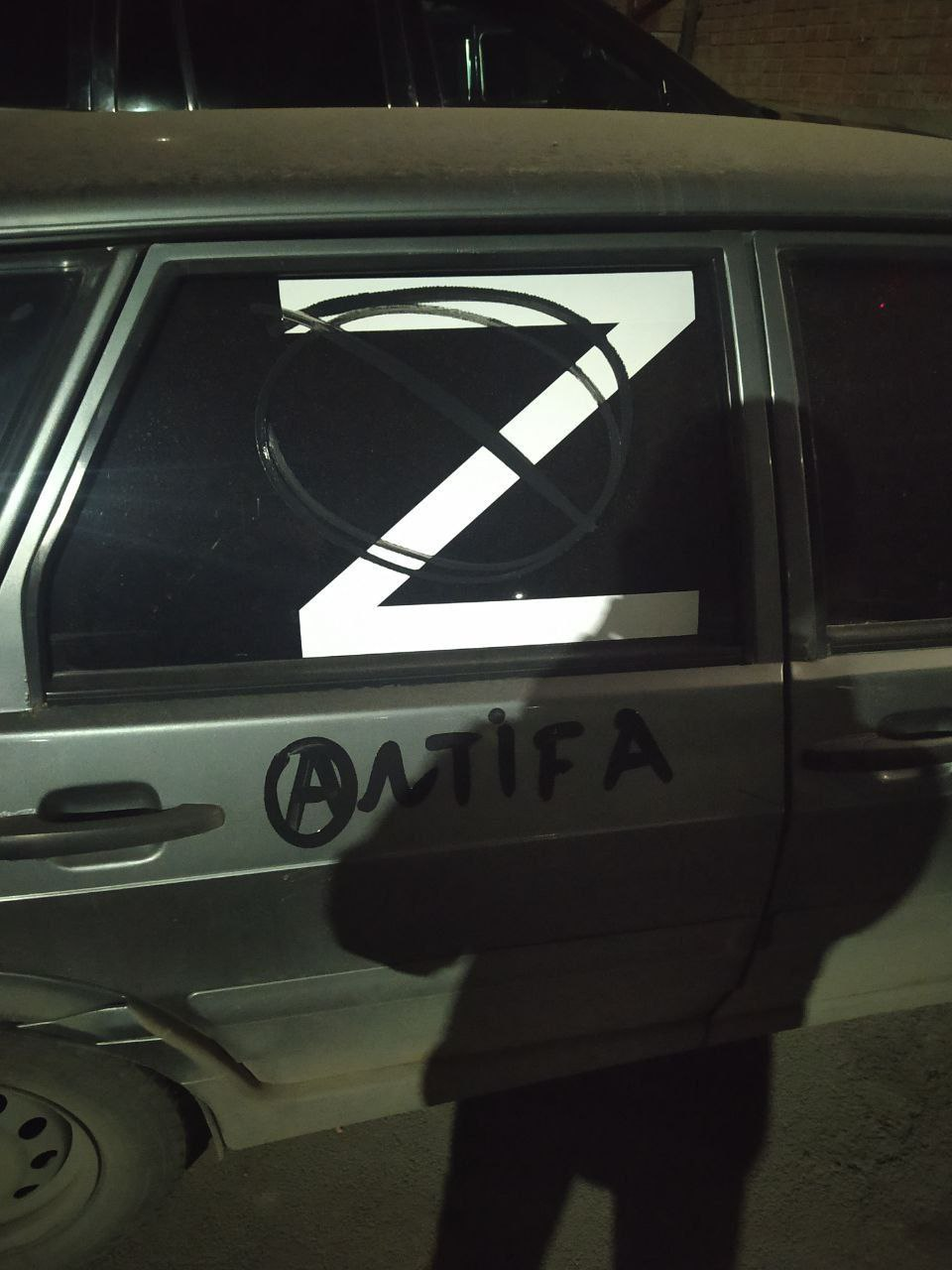 In Tula, on walls and on windows of Z-cars, began to appear regularly inscriptions "Overthrow Putler! Stop the war!" with the sign of anarchy. Yesterday cops reported about the detention of 28 y/o local anarchists Anton and Faik on suspicion of this "vandalism". No further details are given.
Finally, on March 20, in Karachay-Cherkessia Republic, six women blocked traffic on a river bridge in stanitsa Zelenchukskaya, demanding information about their sons and brothers served under contract in the military unit 01485 and missed from communications. According to the protesters, their relatives were sent to war in Ukraine. Cops detained them all and drew up administrative protocols on "violation of the established procedure for organizing or holding a meeting".
It is possible that some Russian officials has not yet completely lost touch with reality, and therefore martial law and general mobilization have not yet been declared - there are fears that it will be massively sabotaged.
The fact that the forces of invaders are dwindling in different ways is no in doubt. There is only one nuance. Will not the whole of Ukraine be turned into ruins while at least already available to the Russia military resources are depleted?
See also our publications about grassroots volunteer support for people living in Kharkov subway due to permanent shelling and how local taxi drivers on the contrary went on strike to increase tariff for clients despite general deterioration of living and working conditions.
Kharkiv!
Länk: https://libcom.org/article/radical-resistance-russia-invasion-ukraine-part-4