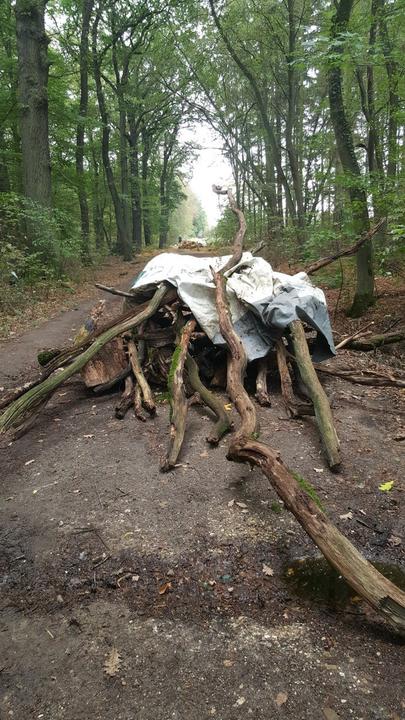 2018-09-07
#Hambacher Forest: Day X is here! How do I become active?
Day X is here! How do I become active?
Edit: Now the police are out of the wood again, it is not yet clear when and how much will be evicted and cut. Nevertheless, the barricades and soil structures are gone and we do not know when the police and RWE will come back to the forest to evacuate. However, the deforesting work is moved backwards to october 14th. THAT DOES NOT MEAN THAT THEY ARE NOT GOING TO EVICT! So come and bring along building material, durable siege food and a radical good mood.
Day X is here! The soil structures of the forest occupation have already been destroyed, the first tree houses too and the FIRST TREE IS FALLEN. Eviction always means felling as well, which means, at the latest now we must become active and try to prevent and to disturb the evictions and deforesting in various ways. (For more information and suggestions see DAY X
Come into the forest, whether alone or with your affinity group, doing solidarity (climbing actions, painting banners, hanging up posters, sabotage, demos, lectures… whatever, everything goes!) And spread the word of the destruction of the Hambach Forest – a 12,000 year old Forest and place of resistance to lignite and the capitalist system, which is a thorn in the money-hungry eye of the German constitutional state.
How do I get into the wood?
At present, the large police force around the forest makes it difficult for people to get in. By detours and in the shelter of the night, it is still possible.
In addition, there is the player Aktion Unterholz, which plans to go daily into the forest with a large mass of people from Day X + 1 (the first day after Day X was called) and to try to block the eviction tanks and forest machinery. Here you can join in and spontaneously join the resistance. There will also be more general actions. More information below and here: Aktion Unterholz
Solidarity actions
Write us if you are planning a solidarity action or send us your photos so that we can publish events and photos on the blog. Please also use the hashtags #hambibleibt #hambacherforst when sharing photos or tweets on Twitter.
What do I need?
A current packing list:
Medicine you need
Sleeping bag
tent
sleeping pad
Camouflage clothing (pants, jacket, headgear)
Solid shoes
Headlamp or flashlight
Climbing harness, if you have one, otherwise there are still a few on site
lighter
toothbrush
Knive, work gloves
If available: camera to document events such as police violence
Water, vegan food (usually available in the forest but in the current situation this is not always sure)
a nice book
safe action phone
Musical instrument, beautiful things that you do not want nor have to to miss.
We are not willing to accept without resistance, what is happening in the forest now. If the occupation is not being continued, the gates are wide open to RWE to destroy and extinguish this unique forest and the creatures living there, in the name of greed, to dig up and sacrifice it to the lignite.
Meanwhile, this forest has become the focal point of a whole movement and by the occupation and all its associated actors, a public debate has been initiated on various political and social levels. Let us fight together, show our indignation and our solidarity, form gangs, and not leave the capitalist rulers without fighting for our wild, woody and wonderful world!
Hambi Bleibt
Länk: https://hambachforest.org/blog/2018/09/07/day-x-is-here-how-do-i-become-active/