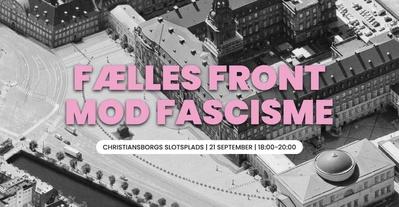 FÆLLES FRONT MOD FASCISME
När:
2023-09-21 18:00
Var:
Christiansborgs slodsplads, København
På torsdag d 21. september er Generation Identitær (GI) blevet inviteret til et interview på Christiansborg. Liberal Alliance Ungdom, Frederiksberg og Konservative Unge, København er gået sammen for at give Generation Identitær en platform og bidrager dermed til en normaliseringen af deres fascistiske holdninger.

GI's politiske ståsted funderer sig på teorien om Den Store Udskiftning, som Renaud Camus har fundet på. Teorien er sammensat af racistiske konspirationer om, at befolkningen i europæiske lande er ved at blive udskiftet af brune og sorte mennesker. Teorien er før blevet koblet til højreradikale terrorangreb, f.eks. i Christchurch, New Zealand, 2019.
Deres aktivisme baserer sig også i høj grad på had mod transpersoner og resten af LGBTQ+ fællesskabet. Senest viste de sig til Copenhagen Pride med et banner med skriften "Der er kun 2 køn".
I et demokrati skal had og splittelse aldrig være et værktøj. Samfundet, og Christiansborg, skal beskytte og støtte minoriteter og ikke give platform for fascismens had.

DERFOR INDKALDER VI TIL MANIFESTATION

Vi mødes kl. 18 på Christiansborg Slotsplads for at vise, at vi er mange som tager afstand til diskrimination og fascisme. Der vil være musik, taler og god stemning.

PROGRAM OPDATERES LØBENDE
SAMMEN MOD FASCISME!
______________________________________________
UNITED FRONT AGAINST FASCISM!
Thursday 21th of september, Generation Identitær (GI) is invited to do an interview at Christiansborg. Liberal Alliance youth, Frederiksberg and Konservative youth, Copenhagen has gotten together to give Generation Identitær a platform and contributes therefore to the normalization of their fascists opinions.
GI's political point of view is based on the great replacement theory by Renaud Camus.
The theory consists of racists conspiracies such as the european population is getting replaced by black and brown people. The theory has earlier been connected to right-wing radical terror eg. in Christchurch, New Zealand, 2019.
Their activism also focus a lot on hate against trans persons and the rest of the LGBTQ+ community.
Most recently they had a banner for cph pride with a banner saying "there only exist 2 genders".
In a democracy hate and division should never be a tool. Society and Christiansborg should protect and support minorities and shouldn't give a platform for fascisms hate.
THEREFORE WE CALL FOR A MANIFESTATION
We will meet at Christiansborg Slotsplads 6pm Thursday the 21th of September to show that we are many that takes distance to discrimination and fascism. There is going to be music, speeches and good vibes.
THE PROGRAM WILL BE UPDATED CONTINUOUSLY
TOGETHER AGAINST FASCISM
FÆLLES FRONT MOD FASCISME